Cowboy Holsters
Cowboy Comp
Cowboy Comp II
Express
Gunfighter
Gunfighter II
Doc Holliday
Trooper
Cheyenne
Westerner
Cheyenne Ranger
Cowhand
Wild Bunch Holsters
Wild Bunch I
Wild Bunch II
Wild Bunch III
Wild Bunch SSS
Patton
Belts
Ranger
Scout
Canvas
All-in-One
Expedition
Money
Bando Belt
Shotgun
Casual & Work
♥♠♦♣♥♠♦♣♥♠♦♣♥♠♦

As of April, 2022 we are currently heavily backlogged
and all orders are taking additional time. NEW work should expect
a 6 month wait until the current work is cleared,
pending orders will be completed as quickly as possible.
J. M. Ross
Maker
(423) 754-1285
Cowhand
· Traditional Old West style at increased angle for cross draw.

· Leather lined made with double layer 6/7 oz. leather

· NOT legal for SASS events.

· High ride only, no drop available

· Made left or right cross draw

· Tooling patterns duplicate old west makers|

· All colors and tooling styles available

· Muzzle angle at 45 degrees and locking piece on belt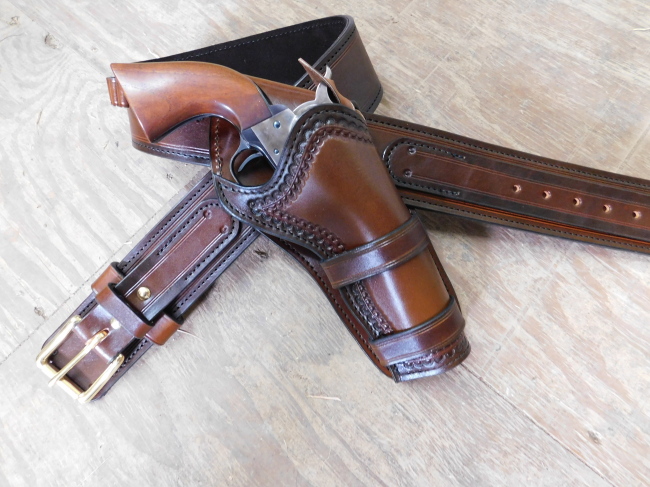 Beautiful Cowhand, Walnut brown with black shadow and Abilene border.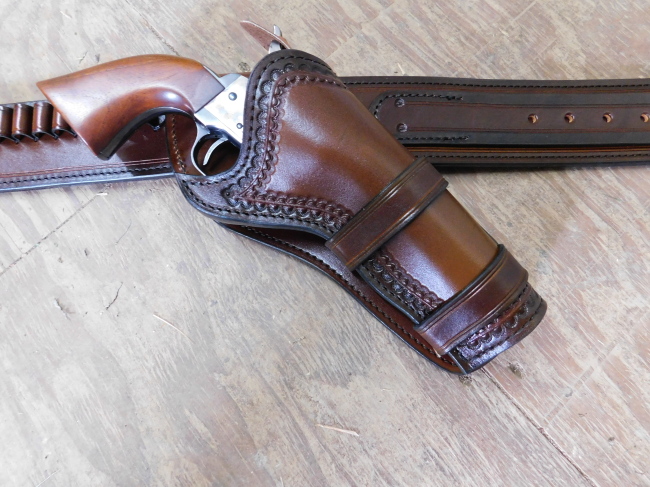 Full 45 degree angle for cross draw.