J. M. Ross
Maker
Ordering Information
The finest leather gear takes time and patience, and attention to detail at the ordering phase as well as during the work. It is impossible to buy a personal holster or rig without talking to the craftsman or communicating directly with each other. I will discuss all the options and choices with my customer before an order is placed so each shooter will be happy with the final result. This can be done by telephone or by email, or even a combination
How it works: Each customer ordering a gun rig will be given an open slot on the calendar and will know the assigned time when the order is placed. This will give the customer a realistic expectation of completion and will vary as my workload changes, but should not extend the delivery date once established. Smaller single item orders will be fit in as best possible, but priority is given to assigned commitments. This is a premium leather shop and work cannot be rushed as only one person completes the work.
No deposit, no prepayment please. Payment info is listed below.
When you are ready to order or just have a question email John at johnny@jm-leather.com Feel free to call anytime and leave a message, I answer my own phone and emails are usually same day response.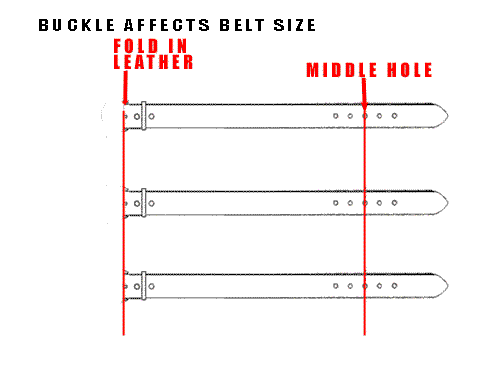 Belt measurements: The measurement for a gun belt is simple for those that already have some kind of shooting rig. Measure an old shooting belt while laid out flat. Measure the length that is used when worn, from the inside edge of the buckle to the hole that is used when the belt is normally worn. This will give an overall length for a new belt using a similar type. Also include your pants size to help us confirm we have the correct size. It is best to round up with heavy belts.

For those that are ordering their first gun belt, use a tape measure, to measure over the top of the clothing normally worn, such as jeans or CAS clothes. The measurement should be made around the upper hips, or where the gun belt will be worn. A heavy gun belt will usually be about 5 inches longer than your waist size, but everyone is built differently and extra gear on the belt can change the dimensions. We do want your pant size as well to make sure we are using accurate measurements.

Belts are made to the size ordered and we understand this is not always correct but we can only go on the information provided. Be extremely careful when checking the belt for size not to cinch the belt down and damage the tongue or other portions of the belt. The belt was delivered new, and must be return in the same condition. Contact us and we will work out the details for return.

If the belt was made the correct size as ordered: The customer may return the belt in new condition and we will work with you to correct the size. The customer will be responsible for additional shipping expenses and the belt modification charge. We offer to modify belts for a modest cost of $20 and this is the cost of modification or replacement of a belt we make. Belts made correctly, but needing replacement will fall into our normal work load and may take additional time to be completed as other work will be displaced.

Options: We offer a product line of holsters, and the customer is encouraged to make the gear personal and one of a kind. There are numerous options that are no extra expense to our customers to tailor your shooting rig. But this does not include structural modifications.

Color combination: Any gear can be two tone or have accents of another color, such as a dark brown holster with a light brown holster strap.

Holster straps: Almost all holsters can be made with or without a holster strap around the body of the holster. The holster body is secured by Chicago screws and the strap is decorative.

Hammer loops: Some shooters prefer a hammer loop to secure the gun in the holster. All holsters are made without them unless they are requested. There is no charge for hammer ties.

Thread color: The thread color will be matched to the main leather color on most gear. But the customer may select from several other colors to make a visual statement. We mainly use, brown, black and natural; but also have red, blue, tan and purple.

Initials: There is no charge for adding initials to your holster or belt.

Belt lining: The lined belts are normally lined with suede, but may be lined with smooth leather as well for an additional charge. Both are about 3-4 ounce leather and are a personal choice of the shooter.

Tie downs: A leg tie down is not recommended for our holsters. The holsters are wet molded and mated to the belt and a leg tie will cause damage by flexing the holster with forced movement.

Buckle style: Standard buckles are clip corner style in solid brass and nickel over brass, and roller buckles in stainless steel and brass. If there is another style desired, please let us know and we may be able to accommodate.

Payments: All gear is made after receiving your complete information and will be finished as timely as possible. There is no deposit and the order can be secured with a credit card or paid by check, but no payment is required at the time of placing the order. If a credit card is provided, it will not be billed until we are completing the work, or an email invoice can be sent and the customer can securely use a card online. If sending a check is preferred, we will contact you as the work is completed and a check can be sent by mail and we will try and time this for a seamless delivery. Checks should be made to John Ross (JM is SASS alias) and we can accept any major credit card.
All orders must be paid in full before they will be shipped, any completed orders not paid in full within 30 days of notice will be subject to sale. Customers may also pick up their gear at shoots and events anytime we can make that happen to save on shipping costs.
Shipping will generally be the U. S. Post Office Priority Mail and will be the actual cost of shipping. We do not overcharge, add handling, or use a flat calculation. If an item can be shipped in a way to save the customer some expense, we will opt for that method, especially small items. We will ship International packages and estimate the actual shipping at the time of order. If you prefer UPS just let us know and we can get a quote.
Mailing address:
John Ross
PO Box 314
Bulls Gap, Tennessee 37711


Returns:
Please keep in mind every item is made after it is ordered, so the following applies:

Items must be returned in new and unused condition to JML standards.

All returns must be approved prior to sending them to JML.

Exchanges must be received within 20 days of receipt

Exchange policy does not include shipping fees

NO exchanges or refunds on items with custom changes or custom order.